Currently I've been following the example of one of my teachers, Lee Konitz, and playing with different musicians in different settings. I find that this keeps things fresh for me. In addition to continuing to perform with most of the musicians I've recorded with, I've continued to do gigs and concerts in the duo format with bassist Nilson Matta. We've done a lot of duo gigs since before and after we recorded as a duo on Two For Two. It seems like I've been playing in this format since I first started performing 30 or so years ago. I remember hearing Jim Hall and Ron Carter perform and that cinched things for me. I've always found that the duo forces me to really pay attention to the notes I choose and how they'll work with my partner. There's also no place to hide in the duo format.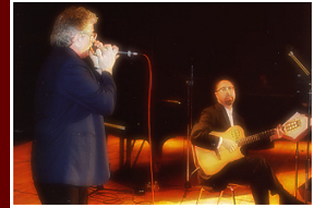 Another duo is with harmonica virtuoso Mauricio Einhorn from Brazil. We recorded in Rio in a quartet setting on my CD, UM ABRACO NO RIO (An Embrace Of Rio), but we've also performed as a duo, enjoying the freedom that this setting allows. Mauricio is such a melodic improviser that he pushes me to try and reach his level when we play. Recently we performed at the S.P.A.H. Convention in Detroit, followed that up with concerts and T.V. performances in New York and Connecticut and also went to Germany for a week, concluding with a performance at the World Harmonica Festival that was filmed for a German documentary on the history of the harmonica. We have a concert DVD that should come out at some point soon. It includes the tunes: "Laura," "The Girl From Ipanema," "Alone Together," "Bahia" and other Jazz standards and Brazilian classics.
In the trio format I've been putting together different combinations but the one that seems to be special is my trio with Nilson and percussionist Guilherme Franco. Because Guilherme is not using the traditional trap drumset, we create a very distinctive sound. Guilherme uses traditional afro-brasilian percussion instruments and also a few that he created himself. And the audience always enjoys it when he talks about the origins of his instruments, how they originally came to the New World from Africa and found their way to Brasil via the slaves, etc. Sometimes our concerts turn into mini-workshops with Nilson talking about the role of the bass in Brasilian music and myself discussing the history of the nylon string violao. And the audience seems to like it when we then play songs that reflect what we've been discussing.
Some of the other larger sized groups I've put together recently for gigs and concerts have been quartets and quintets featuring wonderful musicians like harmonica player Hendrik Meurkens, pianist Cliff Korman and saxophone and flute player Tim Moran. These great players all inspire me and push me to new heights when I play with them. And each situation forces me to approach my instrument a little differently. In the trio setting I might be filling in a little more than I would in the quartet or trio settings. I might be putting in more chords or just letting the silence happen.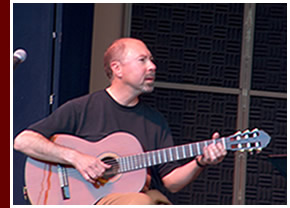 Recently I was asked by the organizer of the Jazz A Bastia Festival in Corsica, France to perform a solo guitar concert. "Solo guitar" are the two words that strike fear in the hearts of most guitarists. I thought about it for about 4 seconds and said "sure". Now, in most of my concerts I usually play one or two solo pieces but I hadn't done a complete solo concert in a long time. Once again this forced me to look at my instrument differently. Once I selected the tunes I would play (Influencia Do Jazz, Chovendo Na Roseira, 'Round Midnight and others), I found that I had forgotten how exhilarating it could be to play in this format. Talk about freedom! I could play chords when I wanted, single notes at other times, or just a bassline. I could start rubato, go into time, back into rubato, whatever I was feeling at the moment. I fed off of the audience, feeling how they were reacting. If I sensed that they had too much harmony I would play single notes for a while. If it would start to feel empty I would go into chords with a walking bassline. The possibilities were almost endless. It really brought myself, as the performer, and the audience closer together within the concert experience. I suspect I did OK because the audience applauded each tune and brought me back for an encore. The concert was recorded and videotaped and there should be a CD or DVD available soon.
Click here for a video clip of the concert:
http://www.corsemusique.com/portail/videotheque.php3?id=carter
So if there are any other concert promoters out there looking for a solo guitar presentation, just send me an email. And if anyone is looking for a duo, trio or larger size group...
---
Joe Carter is currently an instructor at Sacred Heart University and Hartford Conservatory, both in Connecticut, where he specializes in Guitar, World Music and Jazz courses. Some of his courses include Guitar Instruction, Guitar Ensemble, Rhythm Section Ensemble, Music Of The Americas Ensemble, Jazz History, The Music Of Latin America & The Caribbean, Music In America and Music Theory. In addition to this, and also teaching privately in New York City, Joe Carter has taught clinic/workshops in Europe, South America and the United States.


Contact:
Joe Carter
E-Mail Joe Carter