Samba Brasil is a quartet comprised of three North Americans and one Sao Paulo native. They blend breezy vocals, folk percussion and jazz improvisation into a rich and rhythmic brew of Samba, Baiao, Batucada and Bossa Nova. On this recording they have several guest instrumentalists including trombone, electric guitar, percussion and string quartet.
SAMBA BRASIL
So Many Stars
Empathy Records
Catlina Szabo - Vocals, Piano, Keyboards
Gene Bozzi - Drums, Percussion, Vocals, Keyboards
Jeff Fuller - Guitar, Bass Guitar, Vocals, Keyboards
Tim Moran - Alto Sax, Flute, Alto Flute, Clarinet
List of Tunes:
1. Brincadeira
2. Friday The 13th
3. So Many Stars
4. Pra Sempre
5. Garuta de Ipanema
6. Manhã de Domingo
7. Early Spring
8. Paisagem Comica
9. Five in the Shower
10. Going Away
11. Sacu du Patu
12. Tristeza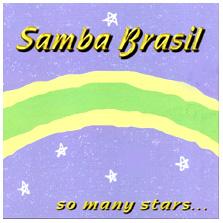 Casbah, The Cecil Payne Quartet, places baritone saxophonist and flautist Cecil Payne in a unique drumless quartet setting. The Bebop veteran of the Dizzy Gilliespie, Tadd Dameron and Randy Weston groups anchors a session that JazzTimes Magazine calls "a fine album" and Jazziz Magazine suggests it is "a cool jazz album definitely worth snagging."
The Cecil Payne Quartet
Casbah
Stash Records
Cecil Payne - Baritone Sax, Flute
Richard Wyands - Piano
Joe Carter - Guitar
Stafford James - Bass
List of Tunes:
1. Casbah
2. Carney
3. Wave
4. A Walkin' Thing
5. Time After Time
6. How Deep Is The Ocean
7. Bosco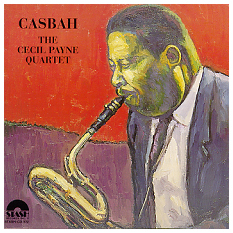 Point Counterpoint, The Warren Chiasson Duo featuring Chuck Wayne showcases the duo that was a mainstay at the legendary New York jazzclub, Gregory's. This session, the last recording of guitar great Chuck Wayne, mixes jazz standards and originals in what Cadence Magazine describes as "a welcome meeting of two old friends."
The Warren Chiasson Duo
Point Counterpoint
Empathy Records
Warren Chiasson - Vibes
Chuck Wayne - Guitar
List of Tunes:
1. Satin Doll
2. Wave
3. Waltz For Debby
4. Shiny Stockings
5. Festival
6. My Funny Valentine
7. Diane
8. All The Things You Are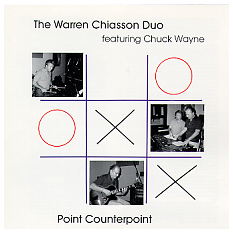 I Hear A Rhapsody, a recording by pianist Don Friedman, whom European author/ critic Joachim Berendt described as "one of the most important pianists of the 60s and 70s for whom the innovations of Bill Evans were a significant point of departure." In the year of its release this album was voted #3 for the year by John Norris (CODA Magazine publisher) in the CODA Magazine Critics' Poll
"Friedman is a genuine virtuoso whose playing suggests that far from playing at the limit of his technique he has plenty left in reserve. This album is worth seeking out..." Stuart Nicholson, The Wire
Don Friedman
I Hear a Rhapsody
Stash
Don Friedman - Piano
List of Tunes:
1. If I Should Lose You
2. For All We Know
3. 'Round Midnight
4. Olivia
5. I Hear A Rhapsody
6. Half And Half
7. Free Improvisation #1
8. My Foolish Heart
9. The Song Is You
10. Gentle Rain