Joe Carter started guitar studies at an early age, eventually focusing on Jazz. While earning B.A. and M.A. degrees in Jazz Performance and starting his Jazz Ph.D. studies at New York University he studied privately with guitarists Sal Salvador, John Scofield, Allan Hanlon, saxophonist Lee Konitz and pianist Don Friedman. After several performance and teaching trips to Brazil his current specialty is Brazilian Jazz, combining Straightahead and Bebop styles of Jazz with Samba, Bossa Nova and Northeast styles of Brazilian music.
His latest two CDs showcase his familiarity with Brazilian music; UM ABRACO NO RIO (An Embrace Of Rio) was recorded in Rio de Janeiro with Brazilian musicians. World reknown harmonica virtuoso Mauricio Einhom, bassist Luis Alves and drummer Joao Cortez have previously performed with Joe Carter in different group settings on Joe's various performance trips to Brazil. THE SAMBA RIO TRIO CD is Joe Carter's U.S. version of his group utilizing the talents of two of the better known Brazilian artists residing in New York: bassist Nilson Matta and legendary drummer Portinho.
Two recordings that illustrate Joe Carter's staightahead Jazz playing are DUETS which features Carter in a guitar/bass duo setting with Rufus Reid and Harvie Swartz and ART FARMER & LEE KONITZ WITH THE JOE CARTER TRIO & QUARTET which pairs Carter with Art Farmer and Lee Konitz along with Harvie Swartz and Akira Tana.
During the course of his career Joe Carter has recorded and/or performed with Jazz artists such as Art Farmer, Lee Konitz, Cecil Payne, Rufus Reid, Harvie Swartz. Akira Tana, Stafford James, Richard Wyands, Don Friedman, Hendrik Meurkens, Steve Kuhn, Eddie Bert, Mike Longo, Nabil Totah, Ray Mosca, David Finck, Bill Hardman, Junior Cook, Jamil Nasser and Al Harewood among others; and with Brazilian Jazz artists such as Mauricio Einhom, Robertinho Silva, Luis Eca, Luis Alves, Paulo Russo, Joao Cortez, Claudio Caribe, Alosio Aguiar, Nilson Matta, Portinho, Jehovah de Gaita and others.
Some of Joe Carter's International performances as a leader have included the following:
People Jazz Bar, Rio de Janeiro, Brazil
Rio Jazz Club, Rio de Janeiro, Brazil
Ritmo Nightclub, Rio de Janeiro, Brazil
Gula Gula Bar, Rio de Janeiro, Brazil
Horse's Head Saloon, Rio de Janeiro, Brazil
MafUa Do Malungo, Recife, Brazil
Jazz Yatra International Jazz Festival, Bombay, Goa and Bangalore, India
Le Village Nightclub, Paris, France
International World Music Festival, Trossingen, Germany
JAZZTIMES Convention, New York City
New York Guitar Show
Joe Carter has been featured in two books Jazz Guitar on Record by Richard Hetrick and Adrian Ingram's The Gibson ES-175, Its History & Players. He also is mentioned in The Brazilian Sound by McGowan and Pessanha.
Joe Carter is currently an instructor at Sacred Heart University and Hartford Conservatory, both in Connecticut, where he specializes in Guitar, World Music and Jazz courses. Some of his courses include Guitar Instruction, Guitar Ensemble, Rhythm Section Ensemble, Music Of The Americas Ensemble, Jazz History, The Music Of Latin America & The Caribbean, Music In America and Music Theory. In addition to this, and also teaching privately in New York City, Joe Carter has taught clinic/ workshops in Europe, South America and the United States. He is also the author of four textbooks for guitar.
"His show is a gift to those who, tired of noise, want to listen to music played in a sensitive and intelligent way." - Chico Nelson, Jornal Do Brasil, Brazil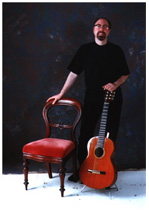 "Subtle, elegant, dynamic, lyrical, WONDERFUL!" - The Afternoon Despatch & Courier, India

"His style is a model of good taste, sobriety, elegance and melodic beauty." - Jose Domingos Raffaelli, 0 Globo, Brazil

"He never plays an unnecessary note. His improvisations are beautifully shaped, while his comping is the epitome of taste." - Adrian Ingram, Just Jazz Guitar

"Carter moves with certainty and his solos are all intense and melodic." - Guiseppe Ballaris, Guitar Club Magazine, Italy

"Modem guitar repertoire displaying remarkable technique and imagination with a highly personal manner of swinging." - Louis Victor Mialy, Jazz Hot Magazine, France

"A sensitive Bebop player with a lyrical turn of phrase not unlike a slightly more modal version of Jim Hall." - Chris Burden, String Jazz Magazine, England

"Carter is a perfectionist to whom music is a supreme art form, an essentially lyrical guitarist who brings out the melodic essence of each song." - Musicnet Magazine